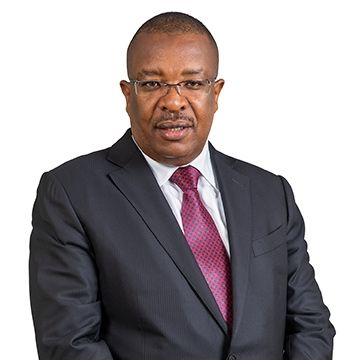 Dr Gideon Muriuki
Group Managing Director & CEO
Appointed Managing Director in 2001 and has presided over the Bank's turnaround from a massive loss position of KShs. 2.3 billion in the year 2000, to a profit before tax of KShs. 20.71 Billion in 2019.
He joined the Bank in 1996 as a Senior Corporate Manager then became Director, Corporate and Institutional Banking in 1999 before his appointment as Managing Director in 2001 with a clear mandate to return the Bank into profitable trading.
Holds a Bachelor of Science degree in Mathematics, is a Fellow of the Kenya Institute of Bankers and was awarded an Honorary Doctorate in Business Management in year 2011. He has over 31 years experience in banking and finance and he was voted CEO of the year Africa 2014 by the International Banker.
He is a Director of Kingdom Securities Limited, Vice-President Africa – International Co-operative Banking Alliance (ICBA), former Chairman, Governing Council of the Africa International University and former Chairman, African Rural and Agricultural Credit Association (AFRACA).
He was decorated in 2005 with the award of Order of the Grand Warrior (OGW), in 2011, award of the Moran of the Order of the Burning Spear (MBS), in 2017 with Chief of the Order of the Burning Spear first class (CBS) in recognition of his successful turnaround of the Bank and exemplary service to the nation.
He is a recipient of a decoration of Chevalier de L'orde National du Burkina Faso by the President of Burkina Faso in recognition of his outstanding contribution to development of rural finance in Africa, 2016 Lion of Judah Award by Evangelical Alliance of Kenya and Mtumishi Bora Grand Award – 2016 by the Kenya Christian Professionals Forum for his great servant leadership as a committed Christian leader in the market place. In 2018, he was awarded Best Banking CEO Kenya by International Finance.
Board of Directors
© 2023 Co-operative Bank of South Sudan. All Rights Reserved. Authorized financial services and registered credit provider.
Co-operative Bank is Regulated by the Bank of South Sudan.